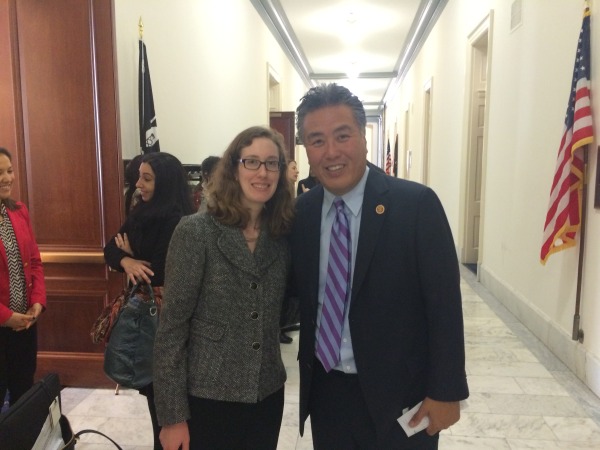 On Thursday, November 18, 2014, I attended the Congressional Maker Caucus event on "Creating a Diverse & Inclusive Maker Movement," which examined the role of women and underrepresented minorities in making and discussed how to broaden participation and diversify the makeup of makers.  The Congressional Maker Caucus is a bi-partisan group of members of Congress, which provides a greater voice in promoting America's growing maker economy to Congress.
The event included remarks from Congressional Maker Caucus Co-Chairs Congressman Mark Takano and Congressman Steve Stivers. In Congressman Mark Takano's opening remarks, he captured some of the essential value of bringing making to more young people in declaring that, "the Maker Movement is changing the economy, lowering barriers for entry. It's also going to transform how we teach our children, because during the innovation process, sometimes failing can be more educational than textbook successes."
Congresswoman Debbie Wasserman Schultz, the Congressional Maker Caucus's newest member, also addressed the group and shared the importance of math and science education with a personal connection to her own daughters.
The event was standing room only, indicating the incredible interest of lawmakers and members of the maker community in discussing this critical topic.
Dr. Renee Wittemyer, Director of Social Innovation at Intel, moderated the featured panel. Intel is a huge champion of the Maker Movement and a founding sponsor of Maker Ed. They recently released a new report, "MakeHers: Engaging Girls and Women in Technology through Making, Creating, and Inventing" that set the foundation for this conversation.
The panel included key members of the maker community who are addressing the issues of bringing more diversity, especially girls, into making: Suzanne Harper, Chief Girl Experience Innovator, Girl Scouts of the USA along with local Girl Scout and maker Emily; Kylie Peppler, Assistant Professor of Learning Sciences & Director of The Creativity Labs at Indiana University Bloomington; and Maura Marx, Deputy Director for Library Services, IMLS.
Dr. Peppler, who is the Assistant Professor of Learning Sciences at Indiana University and leads the research team for Maker Ed's Open Portfolio Project, shared some of the information coming out of the surveys of maker sites involved in the Project and noted, "Promisingly, our recent surveys of makerspaces, conducted as part of the Maker Education Initiatives' Open Portfolio Project, demonstrate that makerspaces are serving highly diverse populations (in terms of race, ethnicity, gender, and social class). The question then becomes how do we support these populations over the long-term, leading to consequential impacts on their education and career trajectories."
This hopeful message was felt throughout the conversation, and the national presence that the Congressional Maker Caucus is developing can only help to enhance this important work.