Making MAKING Happen Through Maker VISTA 
Our Maker VISTA program focuses on overcoming poverty through maker education. Maker VISTA members serve at partner sites around the country to impact organizations and the wider community through partnership development, volunteer recruitment, community building, resource creation, educator training, and much more.

This month, Maker VISTA members Corina Penaia and Shelly Tersolo are witnessing the culmination of their Girls Build LA project at Bethune Middle School. It has been amazing for Corina and Shelly to see their team of girls come together to successfully execute their health and wellness advocacy and education projects for their fellow students, after a whole year of planning and developing. Currently, the Maker VISTA duo is supporting and facilitating students' presentation prep, as they practice in advance of their presentation at USC on May 13th. If the Bethune student team is selected, every member of the team will be awarded a college scholarship. Win or lose, Shelly and Corina are so proud of the work the students have done this year and are looking forward to cheering them on as they present their hard work for official judging!

Projects like this make Corina and Shelly feel most connected to their site. Even through indirect and capacity-building service, these Maker VISTAs are able to forge connections with individual students at Bethune that both contextualize and motivate their other work and efforts. In understanding and supporting students who face their own individual obstacles, circumstances, and struggles, Shelly and Corina better learn and understand how to build community and responsively problem-solve. Both women find themselves able to share in students' successes, and take as much nourishment and joy from seeing them accomplish their goals as they do in their own.
Corina and Shelly describe the maker vibe at Bethune Middle School this month in three words: "Resilient, determined, hopeful."
At ReCreate, Maker VISTA member Shubha Arehalli has been developing a formal volunteer training program for high school students called Maker Ambassadors. Throughout the planning process the program has evolved in a variety of ways, from changes to the training timeline to opening up the partnership options. As Shubha and her supervisor continued to tinker with the program, they realized that it would be better to have volunteers fully trained before the start of summer camps, changing their initial plan from facilitating weekly volunteer training sessions to hosting a full week of training for new volunteers in the beginning of the summer, and during winter and spring breaks. In addition, to further bolster volunteer recruitment efforts, the ReCreate team has expanded the community organizations they partner with in order to include schools and service organizations, as well as the original partnership for Maker Ambassadors, Girls Scouts.
In other recent ReCreate news, on the last day of Maker Monday programming at Stoneridge Elementary, students worked to create DIY 3D glasses and booklets. The students were completely engaged as they discovered how using different colored filters and pens allowed them to create 3D images. At this event, Shubha reflected on one of the ways her personal life has been positively impacted through the exploration, making, and reuse ethos of ReCreate:
"I am proud to work at ReCreate because of our emphasis on reimagining uses for 'junk.' I love taking 'maker breaks' to build a sample of a project we're taking out to schools, or making at one of our events on-site. I've started rethinking what I throw away in my life outside of work as well, upcycling broken jewelry or ripped clothes, saving toilet paper rolls and wine corks etc."
Shubha describes the maker vibe at ReCreate this month in three words: "Busy, exciting, non-stop."
At San Fernando Middle School, principal Mr. Ortiz challenged students in his maker class elective to interview themselves and their peers about the impact of their teachers for teacher appreciation week. This project spanned about three weeks, over the course of which students learned and explored how to use iPads to record, edit, save, and share videos through iMovie. Students developed questions, prepped the peers they were interviewing, and then edited and personalized their individual or group clips into one cohesive movie to be shared during teacher appreciation week. Maker VISTA member Lyna Abal found this project to be resonant and gratifying for both the students and the teachers, as it allowed the students to be self-motivated, and to experience using technology in collaboration and for the purpose of serving their community.
Inspired by this time of celebration and appreciation of teachers at her school site, Lyna reflects on her semester experience of collaborating with Mrs. Gomez on a long-term vertical garden project:
"Supporting her through her vision on this project really made me feel like I was part of her team, because we were able to collaborate together on different ideas. I really am pleased and honored to be serving at SFMS because even though teachers have a million and one things they have to get done, they always leave room for me to wiggle my way into their classrooms for a maker project, shine some light on maker education and share how beneficial it can be in their classroom. SFMS has become significant to me in that I've learned to be patient and grow with teachers, students, admin, and staff. I've also learned what it is to be a kid again, when the world seems so big and unattainable but you fight through and find your niche in your environment, so that you can become someone greater and better than you thought possible."
Lyna describes the maker vibe at San Fernando Middle School this month in three words: "All in, yes!"
This past month, Maker VISTA member Blair McAvoy tackled the tangled task of making C4K's Arduino supplies more accessible. She had found that while the site had a bunch of different kinds of Arduinos, sensors, buzzers, LEDs, and LCDs, youth members rarely used them unless there was a one-to-one adult mentor who could help. Blair understood why these materials could be scary or seem too high-tech for youth members who haven't yet explored electrical components, circuits, or coding. To help resolve all this, Blair started by going through and sorting all of the parts and pieces. Once they were clearly organized and labeled (a huge step in accessibility!), Blair and her supervisor Matt Burke came up with the idea of increasing approachability by making kits with friendly instructions for set-up and use. To best develop these, Blair had to learn more herself. With the support of two volunteers and her own self-research, Blair has increased her knowledge and comfort level with Arduinos, which provides a boost for this specific project as well as to the staff at C4K overall. She has already developed several kits, and even in a short amount of time, kids who had never used Arduinos have taken kits and were able to make them work.
In her service with C4K, Blair strives in her own way to bridge the Charlottesville community with that of nearby University of Virginia. While UVA is not far from Charlottesville, the two communities can feel rather disconnected and different in terms of culture and demographics. C4K is in a unique position to bring these two groups together, especially with Blair's experience of having been a UVA student and now an integral part of the C4K team. In cultivating a welcoming, "we-all-learn-from-each-other" environment, the overlap of UVA volunteers and Charlottesville youth can result in shared discovery and mutual learning, fostering authentic mentorship and collaboration as opposed to anything top-down or prescriptive. Blair has found this perspective and environment has really allowed her to grow, and has improved her ability to put herself in the shoes and mindsets of others.
Blair describes the maker vibe at C4K this month in three words: "Ready for summer!" (We have tons of awesome summer camps planned!)

Over the past several weeks, Maker VISTA members Crystal Le and Maria Renteria worked with Grass Valley's transitional kindergarten and kindergarten teachers in putting together a sewing curriculum. Each week, students would practice their running stitches and whip stitches on various materials. During the first few weeks, they learned these basics using cardboard and shoelaces, Styrofoam plates, and felt. Later, these young makers worked up to creating their own felt emoji pillows and mini lavender-scented pillows for Mother's Day. This project was a great exercise in adaptability, as the timeline was constantly shifting due to students' varying abilities. Crystal, Maria, and the teachers adjusted and modified certain activities as they progressed, and in the process learned how to make both the lessons and the planning more efficient and focused.

An aspect of serving at Grass Valley that enables Maria and Crystal to feel connected to their community is the opportunity to guide students in their independent maker projects. Being able to participate in hands-on making—whether it's making slime, phone cases, Newton's cradles, clothes for their dolls, cardboard virtual reality glasses, and more—alongside students keeps them curious and excited in their own right. Positioning themselves as fellow learners and makers along with students provides Crystal and Maria a significant, engaging means of connecting and contributing, which makes them all the more motivated in their roles as both Maker VISTA members and community members.

Maria and Crystal describe the maker vibe at Grass Valley this month in three words: "fast-paced, exciting, full-steam."

April was Maker VISTA month at Maker Ed, and one of the biggest projects for Maker VISTA member Sam Erwin over the past few months. Over the course of the preceding months, Sam and Maker VISTA Program Manager Daniella Shoshan generated thirteen unique stories as a means of highlighting the impact and strengths of the program. Using skills developed over the course of his year of service, Sam designed and drafted varying graphics, layouts, and other pieces of collateral. He also developed an editorial calendar for the month, strategically planning the timing of a social media campaign, populating the content and images for posts and tweets, and considering the best modes and methods for promotion as well as potential fundraising. Sam was proud of his adaptability during the process, and his ability to meet deadlines and collaborate meaningfully with his supervisor. Mostly, he took great pleasure and excitement in showcasing new and varying perspectives and nuances of the Maker VISTA program and its members.
Reflecting on the past month, and the collaboration necessary for making Maker VISTA month a success, Sam describes a moment where his maker resourcefulness and thoughtful teamwork enabled him to experience satisfaction in his efforts and accomplishments:
"I was designing an infographic for the first time, and it was difficult for me to visualize how it would come together. I did research on other infographics, and also had a creative conversation with my supervisor. These two things allowed me to quickly advance with the layout and envisioning how it would come together. The end result was a clean, powerful image that I am very proud of."
Sam describes the maker vibe at Maker Ed this month in three words: "Maker VISTA Month."

Over the last two months, Maker VISTA members Becca Hoskins and Jenn Torres have been working with East Palo Alto librarians to plan a Maker Night for Spanish speakers in the local community. In collaboration with the afterschool program coordinator, the STEM Coordinator, the assistant superintendent, and the East Palo Alto Librarians, the team has planned for the event to take place at the dual immersion elementary school site, Los Robles and Chavez, which has helped to expand their outreach efforts and garner further support for the event.
Maker VISTA member Becca had an exciting discovery as she explored and learned the basics around using breadboards to complete a circuit. During this process, she shares a valuable aspect of the experience: "I learned how to use a chart to determine the value of resistors and was able to make a simple circuit with a resistor on a breadboard for the first time ever! I also learned exactly what a breadboard is and how it works. It felt really good to learn something that had been so mysterious and felt so unapproachable to me before."
Additionally, Jenn and Becca had the opportunity to connect with community members and families at a recent Visual and Performing Art Showcase. Parents along with Jenn and Becca were in awe and excited by the amazing work reflected in the makerspace projects that students presented during the event. One student made a six foot tall hoop shooting game that counted every point someone scored using a makey-makey. Students from one district school collaborated and designed arcade games, while students from another brought life-size zoo animals to animation with Hummingbird duo processors, LED lights and servo motors. One student made a mini pool table, and played on it through the duration of the showcase. Not only did the event provide an opportunity for parents to connect and engage with student maker successes, the showcase made space for students to further explore their projects sustainability, confidence, and widening maker community. 
Becca and Jenn  describe the maker vibe at Ravenswood this month in three words: "Chaotic, fun, focused."

April saw the culmination of months of planning and prepping for Art 120, in their annual Art Car Weekend event series that took place on April 27th-30th. As with every year, the weekend featured a plethora of activities, but this Spring's celebration included a curriculum component developed by Red Bank Elementary School's librarian, Cristol Kapp, and Maker VISTA member Hannah Hahn. Third through fifth grade students from Red Bank Maker's Club used copper tape and Chibi LED lights to create circuits, and after each student created a conductive current, they decorated them into "art cars" with materials including magazine or newspaper clippings, markers, colored pencils, and more. This activity allowed these younger students to contribute cars for the event, in addition to the larger vehicles soldered and re-imagined by older local students. The weekend also featured a STEM Jubilee, wherein Art 120 was able to partner with Imagination Playground's Big Blue Blocks so that youth from pre-school to elementary school—and even some adolescents and adults—could build, destroy, rebuild, and explore climbing, rambling landscapes with these giant bricks.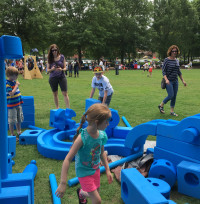 Meanwhile, Maker VISTA member Dan Mailman  attended a "Teach with Tech" expo of public school teachers striving to employ tech to bolster lesson plans across all subjects.  The event was arranged by the Public Education Foundation of Chattanooga and provided a forum for discussing best practices around integration, including integrating some of the curriculum Dan himself has helped to develop via Art 120's Maker Genies Curriculum Project. In discussions at the expo, Dan was able to troubleshoot and thought-partner with educators around balancing the need for teacher trainings and orientations around certain components and tech, with limited time, bandwidth, and affordable resources. In order for Maker Genies and other tech initiatives to be most useful and meaningful to educators, they need the ability to explore and understand the tools, and develop authentic applications for their in-classroom use. This has made Dan think about web-based trainings he can develop, and incentives or "trades" Art 120 and other organizations can offer in order to boost both usership and understanding.
Hannah and Dan describe the maker vibe at Art 120 this month in three words: "Chaotic, but fun."

At Lighthouse, Maker VISTA member Gary Hall designs and facilitates monthly Parent Creativity workshops that provide opportunities for parents to experience the effort, exploration and excitement that surrounds students' maker experiences. Recently, Gary has worked alongside a translator, as a majority of parents are not primarily English speakers. He has found that even speakers of different languages can find themselves communicating a shared language through making. As Gary looks toward planning the last workshop of the school year, he is excited that he has been able to empower these parents to become more confident in their maker abilities, even overhearing some sharing, "That wasn't hard at all!" Supporting parents as they move through their projects to explore, tinker, play, and inquire, has expanded Gary's definition of an "ah-hah!" moment. 
Gary has also been supporting Lighthouse over the last several weeks as they prepare for the upcoming Maker Faire Bay Area. During the weekend of events, Gary will be collaborating with Kindergarten through 4th grade students as they work together to build-out a watershed environment.
Gary describes the maker vibe at Lighthouse this month in three words: "Maker Faire time!"

Kindergarten classes at Drew Charter School have engaged in a year-long, project-based learning unit connecting friendship, diversity, and social/emotional learning. With the help of Drew's artist-in-residence Jeff Mather, kindergartners designed and built a Buddy Bench, a seat located on the school playground that students can sit on when they want to show others they are feeling left out and are in need of a friend. Following each of the steps in the design process, the kindergartners brainstormed designs for their bench, drew sketches, created both cardboard and 3D-printed prototypes, and then constructed the actual bench out of wood. Students were fully involved in each phase of the project: they sanded, drilled, painted and assembled the bench, and proved that even the youngest makers are capable of using tools when they have the right safety training and supervision. After a year of hard work, the Buddy Bench is now complete! The kindergartners dedicated the bench to the school during a ceremony this month, and the pride they took in this project was felt by the Maker VISTA team and the Drew community at large.
Also this month, Drew's first grade teachers embraced the STEAM team's Electronics Trunk, the first grade level of educators to do so. Though most of the first grade teachers did not have prior experience using electronics in an educational setting and were a bit hesitant to do so, they took the plunge and decided to use the mobile cart for a PBL unit that inquired, How Can I Use Light, Sound and Magnets to Invent Something That Will Help My Teacher and My School? Maker VISTA members Caitlan Cole and Greg Robbins conducted a training with the teacher team prior to the start of the project, focusing on how students could be introduced to electricity concepts through Snap Circuits. As Caitlan led teachers through the steps of building a circuit to turn on a light bulb and switch on a fan, she felt:
"It's like I could almost read their minds: 'This is not hard at all! This is actually fun! My students will love this!' The very next day a first-grade teacher checked out the Electronics Trunk and facilitated a Snap Circuit lesson with her class! I took photos while the students were building their circuits and when the moment came to turn on the switch and light up the bulb, they were ecstatic."
Greg and Caitlan describe the maker vibe at Drew Charter this month in three words: "Making = mind-expanding!"
Maker Moments is a monthly series that profiles the achievements and capacity-building work of our Maker VISTA team. Check back next month for magnificent moments in making!